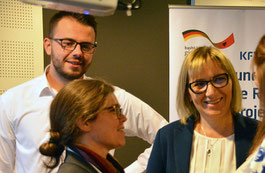 By Constanze Schaaff
The prefecture and the city council of Korça, the National Agency of Protected Areas, the National Territorial Planning Agency of the Republic of Albania, and the KfW Development Bank used World Tourism Day to highlight innovative ideas for eco-tourism development in the Ohrid-Prespa region. More specifically, the event on 28 Sept, 2018  at Life Gallery Hotel in Korça brought around 45 stakeholders together to discuss various opportunities for sustainable tourism in the context of the KfW-financed Transboundary Biosphere Reserve Prespa Project. The project's phase II is implemented by a consortium led by GFA Consulting Group with the Institute for Nature Conservation in Albania.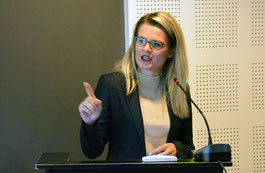 The Ohrid-Prespa Ecoregion and its protected areas, the Ohrid-Prespa Biosphere Reserve and the Prespa National Park, are unique in terms of their natural and cultural heritage. Sustainable tourism is an economic activity that is regarded compatible with biodiversity conservation and, at the same time, an income-generating opportunity and a marketing channel for local products. Sustainable nature-based tourism can be seen as both, sound socio- economic development and preservation of the natural and cultural heritage of the Ohrid-Prespa region.As tourism has been a growing economic sector in recent years, the Albanian government has declared tourism development a priority for the 2017-2021 period. The Prefecture of Korça has been actively promoting sustainable tourism development and convenes relevant stakeholder on a regular basis.
The Atelier Albania Summer Academy and the 100+ Villages Academy are initiatives of the National Territorial Planning Agency. In summer 2018, two interdisciplinary groups of young graduates developed innovative ideas for valuing natural and cultural heritage in the wider Ohrid-Prespa region. One group focused on the Prespa National Park, and on how to strengthen a touristic identity for the South East Albania. The second group looked into potential touristic villages such as Dardhë, Voskopojë, Drenovë, and Boboshticë.
The Transboundary Biosphere Reserve Prespa Project aims at reducing the pressure on natural resources and contributing to poverty reduction in the Albanian part of the reserve. In addition to other measures, support to sustainable tourism will be a key field of activities. The project will last from May 2018 to April 2021. The German financial contribution amounts to a total of 3.5 million Euro. Together with phase I, the German financial contribution for this project, through KfW Development Bank, amounts to 7 million Euro. The Director of the National Agency of Protected Areas emphasized the importance of the project as part of German Development Cooperation and the Albanian government, which are committed to continuously support the preservation of the natural and cultural values of the Ohrid-Prespa region.
 
GFA Consulting Group has been active in the region since 2005, when a KfW-financed feasibility study laid the foundation for bilateral projects related to nature conservation supported in Albania and FYR of Macedonia. A KfW project supporting the Galicica National Park (FYROM) was also implemented by GFA.